Martial arts do not rely on outer forms alone – they draw on internal powers as well. At his aikido seminar in Oberursel Mouliko Halén showed how these internal powers can be developed. The internationally acclaimed teacher demonstrated the astonishing effects this kind of training has when it is put behind the execution of standard techniques. The participants could practise and experience those principles in unarmed forms and in partner exercises with wooden swords.

Details of a gripping technique Mouliko Halén, who holds a 7th dan issued by the international Aikikai federation, had the opportunity to gather experiences in various martial arts, with and without weapons. All those styles benefit from training the internal powers, developing a strong and agile center and supportive body tension. The Scandinavian teacher demonstrated how impressive the effect is, and what exercises help to mobilise those powers. Using a number of gripping and striking techniques he showed the versatility in application, and he also transferred those principles to partner exercises with the wooden sword.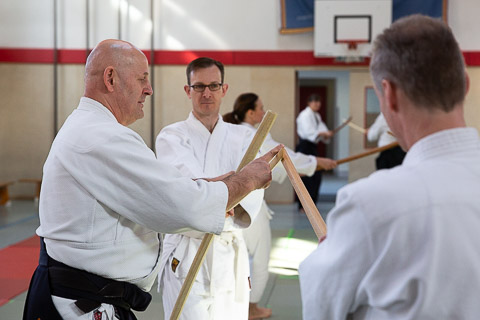 Working with the wooden sword Halén has been teaching the peaceful martial art of aikido professionally for many decades and with great passion in his suburban dojo near the Norwegian capital Oslo. He acquired his skills in a number of martial arts and self defense systems, worked as bodyguard and close-combat trainer, and until this day practises Japanese shiatsu therapy. His passion however is for aikido and the related weapon schools. It is Halén's second nature to be curious, to keep developing his skills and to explore the boundaries with other martial disciplines.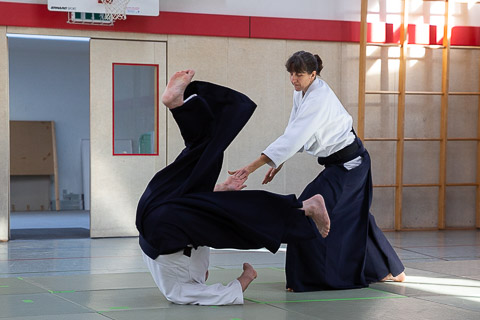 Throwing from the center "I am very happy that Mouliko returned to Oberursel to teach another weekend seminar", says Klaus Messlinger, head of Aikido Oberursel. "He has accompanied and supported our dojo from early on. I am always impressed how passionate and knowledgeable a teacher he is, and how he manages to make his classes fun for everyone present."
If this made you curious about aikido: regular classes are Mondays from 18:30–20:30 at the Landgraf Ludwig school gym in Bad Homburg, Thursdays from 20:00–22:00 and Sundays from 18:00–20:30 at the TV Weisskirchen club house in Oberursel. For a free trial class come in comfortable sports gear; we practise barefoot. Find out more in the FAQ section.
Please visit the image gallery for impressions from the seminar.