A sharp sword cuts effortlessly, and just as effortlessly should Aikido techniques be executed. At his seminar in Oberursel, Karl Ruben showed what challenges working with the wooden sword presents to both partners, and how this practice can be transferred to empty-handed Aikido techniques. Participants from all over Germany came to Oberursel to improve their skills, and despite the high temperatures they practised with enthusiasm and focus.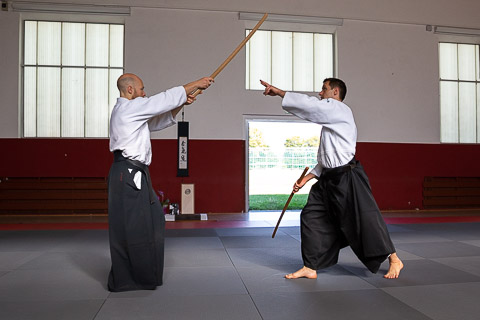 Sword exercise Aikido builds on the knowledge of the samurai, and swordsmanship is an important part of it. Even though the weapon has no practical significance in our days, mastering the sword is key to understanding the techniques of the non-violent martial art of Aikido: it teaches keeping the right distance, finding the best position and being able to respond at just the right moment. It is important that practitioners understand to hold and move the heavy wooden sword in an alert yet relaxed way, being able to act with swiftness and precision. Karl Ruben showed what advantages this practice offers when transferring the principles to empty-handed techniques.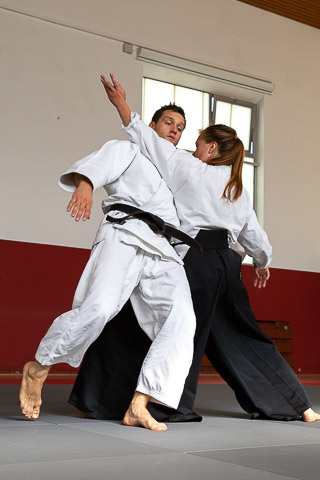 Throwing with sword movement Karl Ruben runs two dojos in Berlin and holds a 4th dan of the international Aikikai federation. He started practising aikido at age 13 and learned from the most renowned international teachers. His interpretation of aikido is dynamic and passionate, yet precise, always in search for the joint movement of both partners. As he likes to work with a higher frequency, a particular focus of his teaching is on developing the best way of how to meet the floor unharmed—and enjoy it.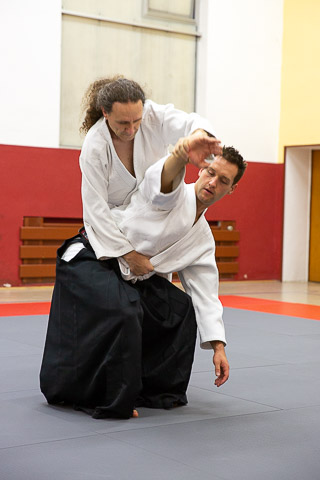 Hip throw "We are very happy that—once again—Karl Ruben accepted our invitation to teach at our dojo", says Klaus Messlinger, head instructor at Aikido Oberursel. "At this year's seminar he challenged us with some particularly difficult tasks and sword katas that will take some time to master. The participants—half of them women—were eager to push their limits, and they were working very hard on the exercises and techniques which required an extraordinary amount of concentration and body control. It was a lot of fun, too."
If this made you curious about Aikido: regular classes are Mondays from 18:30–20:30 at the Landgraf Ludwig school gym in Bad Homburg, Thursdays from 20:00–22:00 and Sundays from 18:00–20:30 at the TV Weisskirchen club house in Oberursel. For a free trial class come in comfortable sports gear; we practise barefoot. Find out more in the FAQ section.
Please visit the image gallery for impressions from the seminar.