The intensive preparations paid off: five dojo members passed their kyu tests last weekend. They received very positive feedback from the jury, which consisted of head instructor Klaus Meßlinger and additional panel members who were partially from other dojos to ensure neutral evaluation. On top of the successful gradings the dojo celebrated that the 60th member joined just a week earlier.
Successful candidates:
5th Kyu

Johanna Porr
Hannah Olbrich

6th Kyu

Carsten Martikke
Mike Matthias
Sabine Czech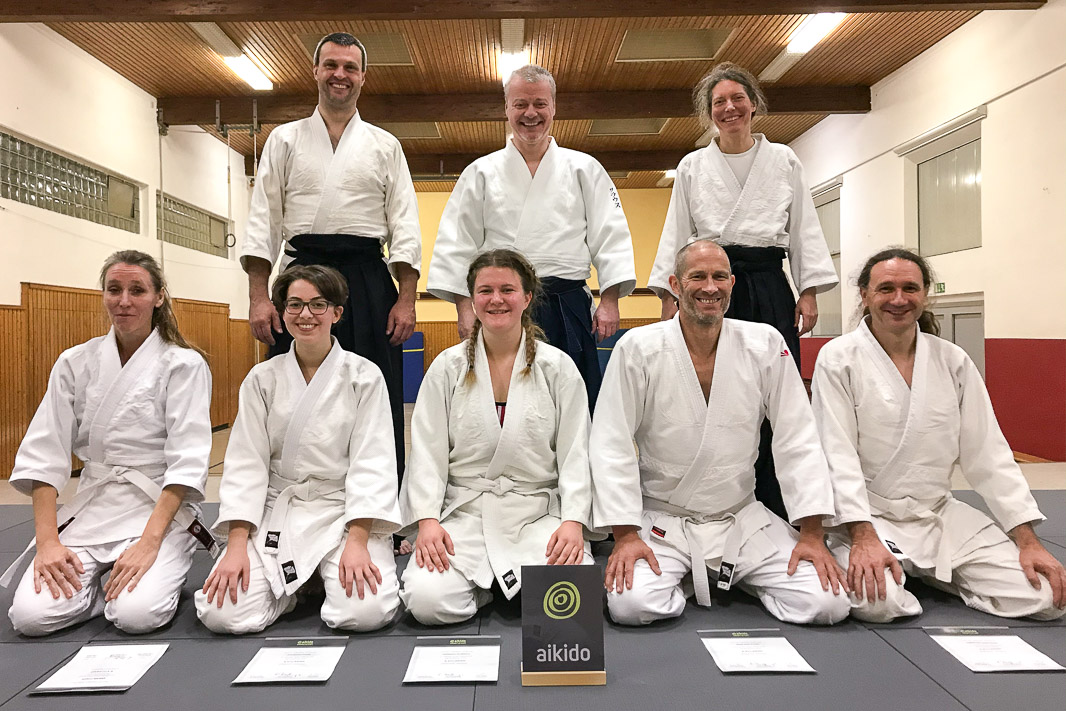 Back: panel members Jörn Fritsch (1st kyu), Klaus Meßlinger (3rd dan) und Brigitta Schultz (3rd dan);
front: Sabine, Johanna, Hannah, Mike und Carsten (photo: Josef Chovanec)
"We are particularly happy that we had candidates from all age groups, most of them women", says head instructor Klaus Meßlinger. "It shows that Aikido reaches people from all walks of life, and it is a result of the healthy growth of our dojo: we now have 60 members, practising in our Oberursel and Bad Homburg locations. This positive development is fuelled by the enthusiasm and friendly atmosphere our dojo members created."
If this made you curious about Aikido: regular classes are Mondays from 18:30–20:30 at the Landgraf Ludwig school gym in Bad Homburg, Thursdays from 20:00–22:00 and Sundays from 18:00–20:30 at the TV Weisskirchen club house in Oberursel. For a free trial class come in comfortable sports gear; we practise barefoot. Find out more in the FAQ section.