Underneath the outer techniques of aikido lie inner principles, which play an important role in the peaceful martial art. During his seminar at the Aikido Dojo Oberursel, the Swedish teacher Jan Nevelius showed a number of memorable examples and applications which nevertheless require a lot of practice to master and proved to be challenging for the participants. The event last weekend attracted about 60 aikidoka from all over the world to Oberursel, about one third of them were women.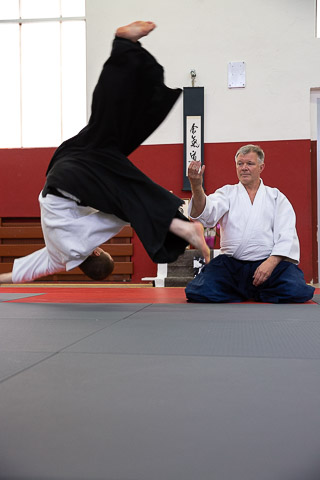 Seated throw Even if it looks like a technique consists of just a sideways movement and a pin, this is only the outside appearance. The defender needs to apply inner principles in order to succeed. An example for this is "shinkentai": this Japanese expression can be translated as "mind first, then the sword, then the body". The "sword" in an unarmed aikido technique signifies a clear and precise movement. The seminar offered ample opportunities to research and practise the application of the correct order, deliberate and safe positions and continuous awareness.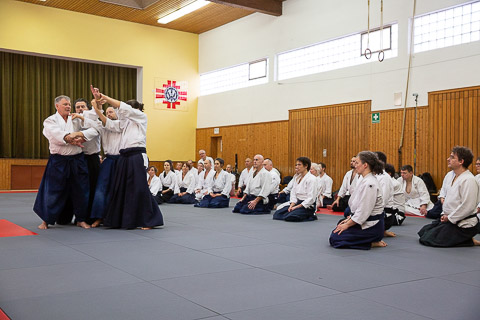 Working with several attackers Jan Nevelius has practiced Aikido for over 40 years. He spent several years in the main Aikido dojo in Tokyo, which is run by the family of the founder. In Stockholm he leads the Vanadis-Dojo, in which Aikidoka from all over the world practice and train throughout the year. In his personal Aikido practice he puts emphasis on a lively connection between the partners, freedom in movement and a well thought-out way of falling and rolling. He also practices Reiki and Qi Gong, and he teaches stress management and Asian medicine at Stockholm University. Recently his book "Vaken vila" was published in German, in which he deals with a mindful lifestyle.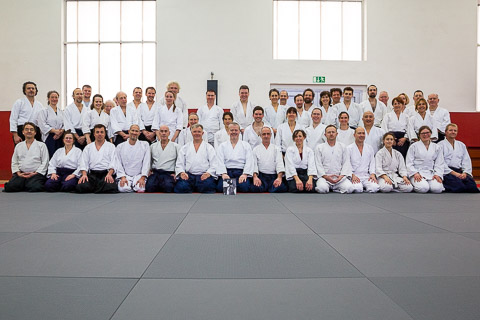 Around 60 participants "I am very happy that my long-time teacher and friend Jan Nevelius has come to us for the second time", says Klaus Meßlinger, head of the Aikido Dojo Oberursel. "The international exchange is part of Aikido. Not only does it create a more versatile education, but also many lasting friendships. Jan Nevelius has been accompanying my Aikido for almost 20 years now, constantly developing himself and inspiring me with new ideas at every meeting". With almost 60 participants this was the most visited course in the history of the dojo. Next year, the Swedish teacher will return to Oberursel again.
If this made you curious about Aikido: regular classes are Mondays from 18:30–20:30 at the Landgraf Ludwig school gym in Bad Homburg, Thursdays from 20:00–22:00 and Sundays from 18:00–20:30 at the TV Weisskirchen club house in Oberursel. For a free trial class come in comfortable sports gear; we practise barefoot. Find out more in the FAQ section.
Please visit the image gallery for impressions from the seminar.